"Our grandparents left us many ceremonies which help us reconnect with ourselves. The Moon Dance is one of them. Nowadays men are being included in the Moondance circles, since we entered another vibration, the vibration of the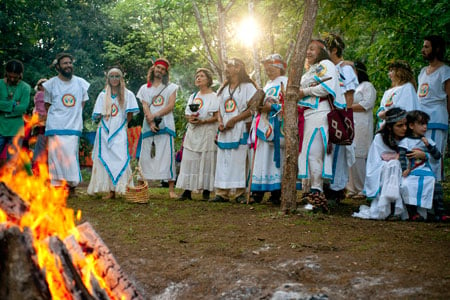 sixth sun, which is the age of Aquarius. Now men and women have the chance to make a change in the harmony between the Sun and the Moon. This will provide the opportunity to the families of the future to have a more spiritual and committed life with our children and mother earth.
The dance is an opportunity to connect with our internal being and with the essences that life provides, the dance, the singing and being awake help our being enter into an elevated state of sensibility and value, life, health and family. This spiritual tradition provides the quality of making us very sensitive and to love everything that has life and movement. It is the Red Road from the heart, using a variety of techniques that connect us with the spirit.
The dance, the force of the moon and the masters of the night and nature, let us vibrate in harmony with the whole universe. Dancing as a family, united in one circle of love and good will, unifying our intentions of a better life, gives strength to our prayers to the creator."
With Love,
Abuela Malinali
The Dual Dance is a unique Red Road ceremony that brings the village together, reinforces the ties among the community and nature and strengthens the bond between Feminine and Masculine.
With the guidance of Mexica elders Malinali (Mexico) and Itzpaplotl (Puerto Rico), PachaMama will dance for four nights under the full moon, making an offering of time, sleep and comfort while sending prayers, songs, wishes and gratitude, as a collective and as individuals.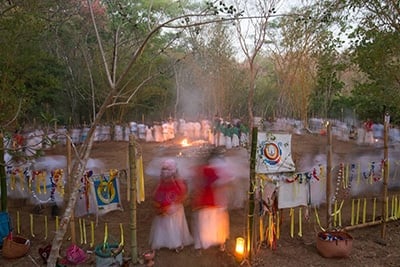 Each night begins and ends with a short sweatlodge, opening and closing this powerful prayer. Days are spent in rest and listening to Palabra, talks given by the Elders in which they share the wisdom of the Red Road, through their understanding of Aztec or Mexica ways. Passing this knowledge on to this generation and the next allows the recognition of our unity as a people, walking together on the Earth as One.
This Year PachaMama will complete seven years of holding the Dual Dance on its land.
The ceremony will be preceded by these activities:
– Danza Mexica classes with Kuauhtli
– Palabra (talks) with the Mexica elders
 Please note:
– Dancers and supporters will be sleeping down at the River for the four nights of the Danza and should bring camping gear.
– Prayer kits and a special outfit required for dancers should be pre-ordered and purchased in PachaMama's Jungle Shop.
– Included in the price, are all meals for both dancers and supporters beginning with dinner on the first day until brunch on the last day.