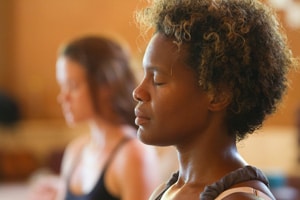 The heartbeat of PachaMama is the Silence, shared through the daily Silent Sittings and the Silent Retreats. Through the silence, one has the opportunity to take a journey to the core of the inner being where it is possible to dissolve into the timeless here and now. The Silent Retreats take place in a beautiful, tranquil setting in nature which supports the work of transformation and meditation.
In this special retreat, the space of Satsang and meditation is supported by a vegetarian light menu including smoothies, juices, raw foods and super foods. This menu allows the participant to go even deeper by elevating the frequency of the body through light, high vibe foods which in turn helps to achieve a deepening of the meditation. The Silent Retreat also includes daily yoga and other movement meditations.
High Vibe Silent Retreat – Food & Meditation Schedule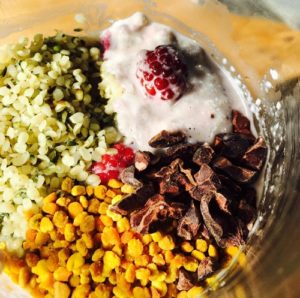 6:15am             Silent Yoga
7:20 – 8am       Breakfast in the Restaurant
Local Fruit selection (papaya, pineapple, banana).  Chia-seed pudding (cashew milk, chia seeds, vanilla) berries sauce.  Super food sprinklings (cacao nibs, bee pollen, spirulina, coconut flakes, maca, mucuna, hemp seeds, raisins, coconut oil, raw honey).  A glass of fresh coconut water.
8:30am             Satsang
10 – 10:30am  Green Smoothie in the Wild Treats
Cold pressed green leaves (spinach, kale, bokchoy, moringa, mint) mixed in veggie juice (celery, carrot, cucumber) sweetened with pineapple juice.
11am – 12pm    Movement or Vipassana Meditation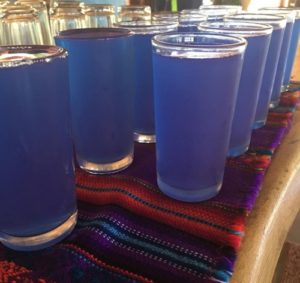 12:15 – 1pm      Light Lunch in the Restaurant   
Salad Bar including super food toppings (gomazio, gorilla greens, seed mix), rich salad dressings and raw crackers.  Variety of daily raw dishes varying from raw vegan burgers to nut-cheese, guacamole, zucchini humus and plantain ceviche.
3:30 – 3:45pm      Power Cacao Drink
Mate/coca tea, cacao butter, cacao beans, vanilla, nut milk, honey.
4pm                    Kundalini or Vipassana Meditation 
6:15pm          Soup of the Day
7pm                    Satsang                     followed by a Listening Meditation
Herbal teas will be available around meal times and after evening Satsang.

All Food & Drinks are included in the price.