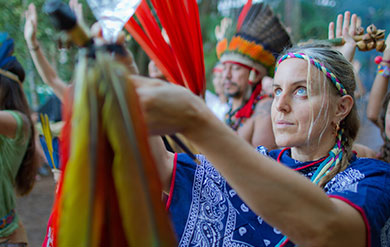 In Pre-Columbian times the land now known as Costa Rica was a meeting place for trade, sharing information and ceremonies. In this Tribal Gathering, which brings together contemporary and Indigenous traditions of the Americas, the PachaMama tribe evokes these ancient memories by joining the ways of north and south, east and west.  The main events of the Tribal Gathering will be a Mesa Chachi Ceremony with Bladi and Ruth, a ceremony with Mexica Road man Kuauhtli and a White Night with the PachaMama Family altar.   Mexica Danza and Sweat Lodges will be woven into the week.
The PachaMama Tribal Gathering is a meeting place for those walking the Red Road, travelers on the path of love and beauty, following in the footsteps of the spiritual ancestors of this continent.  This week-long  celebration of Creation is filled with prayer, music and dance – honoring the elements and welcoming all colors of humanity.
Participation depends on a personal interview prior to the events.
Line-Up:
July 21, 2017
MESA CHACHI

July 25, 2017
PRAYER MEETING WITH KUAUHTLI
July 29, 2017
WHITE NIGHT