"The Calling of the Sacred Mountain Quest" is one of the oldest tools used by tribal people on the "Red Road" to search for direction in life. It involves four days of fasting, praying and being in nature. A journey alone into the wilderness, seeking personal growth and spiritual guidance from the Great Spirit. In this quest for a vision, conditions are set up that allow the soul to move beyond the illusions of the self and enter the unity of the inner whole. It is a period of solitude in which an inner revelation is sought – a vision, which grants profound meaning and direction to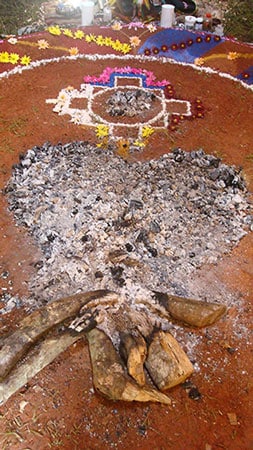 life. This initiation (which is also a four-year commitment) leads to maturity and an understanding of responsibility to ourselves, our society, our natural environment, and our soul. Everyone is encouraged to be a supporter for at least one year before making the four year commitment to quest.
Supporters will:
Walk alongside with the questers, helping them through the steps of preparation for the quest.
Safe guard the process from the vision quest camp.
Watch over questers (day and night) in service and collective understanding.
Eat and drink for one of the questers.
Hold the energy for those going out in the quest, help sustain and nurture them, by staying in the main camp, praying, attending the sweat lodges, music circles and medicinal ceremonies.
Participate in the duties of the camp and receive the blessing of a very unique and united community experience.
The four-day quest will start with a MEDICINAL CEREMONY with Mauricio down by the river on May 3rd. At the end of the ceremony (morning of May 4th) the questers will be planted and begin the four-day "Vision Quest". Everyone will camp by the river during the whole quest.