The Vision Quest (Hamblecheya) is one of the oldest methods used by tribal people on the Red Road as a kind of initiation and spiritual work to search for direction in life. Conditions are set up for Questers to spend four days of solitude in the forest 'calling for a Vision' through prayer and fasting. This initiation (which is also a four-year commitment) cultivates maturity and an understanding of responsibility for oneself, one's society and one's natural environment.
All of the Questers have fulfilled the role of Supporter for at least one year before making their four-year commitment to quest.  Being part of the supporter camp in previous years gives Questers the confidence and openness to receive support from the camp once they begin their own Vision Quest. Together Questers and Supporters create one mystical circle elevating their intentions.
Newcomers are welcome to support for at least one year before taking the four-year commitment to quest.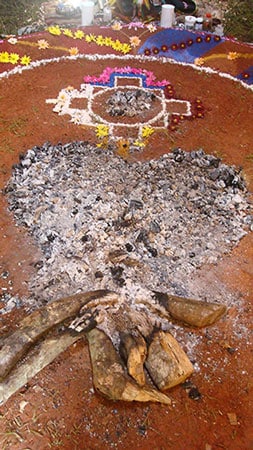 Supporters will safeguard the process from the Vision Quest Camp by watching over Questers (day and night) in service and collective understanding.
During the day, Supporters are thinking about the Questers. With every drink and bite they take, Supporters are nourishing the people "on the Mountain".
While holding the energy for those going out on the quest, Supporters learn more about this unique Red Road work by staying in the main camp active in prayer, palabras, sweat lodges, music circles and medicinal ceremonies.  In the daily sweat lodges, Supporters sing their prayers to the Questers. In the nightly Tipi music circles, the Road Man shares much information about the Quest and the traditions behind it.
Supporting is a beautiful time of prayer and togetherness, not thinking of oneself but rather thinking of the other (the Questers). This is made possible by participating in the duties of the camp while receiving the blessing of a very unique and unifying community experience.
The four-day quest begins with a medicinal Opening Ceremony down by the river with Roadman Mao and the medicine of the Amazon. At the end of the ceremony (the next morning) the Questers are planted in their spots and begin the four-day "Vision Quest". Everyone camps by the river during the whole quest.