THE TRAINING
The 200hr PachaMama Yoga Teacher Training bridges Hatha yoga with Shoalin energetic arts, creating a foundation for a holistic approach to the path of healing and empowerment. Breaking the boundaries of traditional hatha yoga, this training combines the wisdom of the yoga lineage with contemporary understanding of the body, emotional system, and spiritual practices. This training serves as a platform for self-inquiry, deepened body perception, and ignites a process of genuine transformation.
The union of contemporary healing modalities woven within these ancient forms, deepens the experience of what yoga truly is – an art of living, with the clear intention to know oneself and align with truth.
KEY POINTS OF STUDY
In addition to techniques and training of asana, pranayama, anatomy / physiology, teaching methodology, and yoga philosophy other aspects of the training will include:
Chakras – blueprint for evolution
Synergy – range of motion, functional strength, spinal mobility
Cultivating Energy – opening the gateways
Circulation – unifying the systems
Sacred Activism – anchoring your sacred action
Anchoring daily practise– inspiration, enchantment, discipline
Self Inquiry – raw and vigilant
Bridging postures – transferring energy
Stillness – reclaiming the fragmented self
Integration – allowing the practice to leap into life
Relaxation – releasing stagnation and tension
Body temple – cultivating compassion and self love
Various forms of healing practices are used in this training to awaken authentic expression and connection to the inner landscape. This exploratory work includes:
The art of mindful touch and holding space
Tantra
Earth prayer/ sweat lodges
Conscious communication
Various forms of meditation
Ayurvedic assessment
Breathwork
Healing sounds, toning and chanting
WHAT YOU WILL RECEIVE
The deeper aspects of this training initiates a personal movement exploration that reveals the body's mysteries. These profound tools activate a deeper understanding of the body's innate wisdom, allowing one to become more embodied within the yoga practice.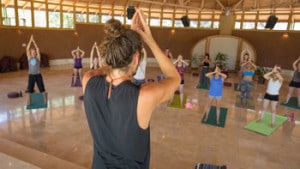 This in-depth training is much more than a yoga experience. It is the path of yoga weaved within deep transformational healing work, earth rituals, community, movement culture and the garden of silence.
It supports the shift towards embracing life with awareness, acceptance of oneself, the recognition of oneness and reverence for the earth.
One exclusive aspect of this training is that it is held in PachaMama. This 200-hour Yoga Alliance certified residential training will be supported by the unique expression of village life and the inspiration of a vibrant spiritual community where people meet life in an authentic and sacred way.

Download the complete program of the training here: Yoga Teacher Training Syllabus