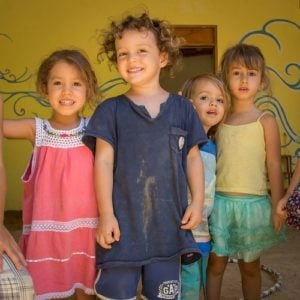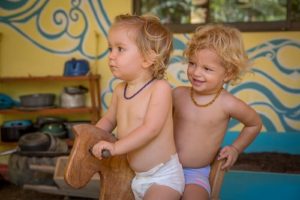 Children are an integral part of PachaMama's  Community and have been so almost from its inception. The population of children is ever-growing and currently stands at 25, with more on the way. The communal environment is naturally supportive of their growth, learning and experience of life.
Inspired by Rudolf Steiner's Waldorf education principles, the holistic approach that guides the school holds that children need to discover the world through their hands, head and heart. Music, dance, theater and the arts are not to be studied as intellectual fields of knowledge but rather explored as opportunities for meaningful encounters between the children, their own inner world and the world around them. Emphasizing the importance of a daily rhythm and creating a supportive environment for the children's developing physical, emotional and mental bodies are key to the cultivation of inspiration, confidence, curiosity and a love of learning. The Waldorf inspiration is also manifested in the choice of toys, teaching materials, stories, daily activities and other aspects of the school.
Resident children attend the School or Kindergarten in the mornings. Long term visiting families are welcome to enroll their children to these facilities based on their age and school experience. Shorter term visiting school-aged kids can enjoy the Forest Class program. The provisions for visiting children reflect the respective needs of the different age groups and each child's length of stay, so please contact us for more detailed information.
AGE GROUPS (for the school year 2016/17):
Pre-Kinder Class: 1.5 – 3 years old
Kinder Class: 3.5 – 6 years old
School Class: 6 – 8 years old
SCHOOL HOURS:
Monday to Friday – 8 am to 1 pm
REQUIREMENTS:
A five month minimum stay is required to support a successful integration process for the children and to maintain the flow of the class.
PRICING:
School prices vary depending on the child's age and length of stay. Please contact us for more detailed information.
NEIGHBORING COMMUNITIES:
The PachaMama School and Kinder are happy to welcome children from neighboring communities.