Sustainability in PachaMama
When PachaMama was founded in 1999, these 500 acres were a cattle farm with very few trees, just small patches of forest. The transformation that this land has been through is incredible. Thousands of trees have been planted, including endangered trees. Now the land is healed and it is again a lush forest. The wildlife, butterflies, insects and birds have returned and the eco system is restored.    Transformation is a holistic process, and can't be completed unless it encompasses the way we relate with all that exists.
Building and Responsible Construction Practices: All the hardwood that is used for construction in the village is from fallen trees and the houses in PachaMama are built below the ridge line, so as not to dominate the peaks but to integrate into the forest.  The evolution of the village goes hand in hand with the principle of conservation and respect to nature.

Healthy Cuisine:  What grows and is harvested in Pachamama is 100% Organic. Many types of potent leafy greens and fruits are harvested on the land. PachaMama is making a supreme effort to bring in only organic produce and is partnering with local farmers reducing the carbon footprint as well as supporting local agriculture.
Waste Reduction: The carbon footprint is reduced by eliminating one-use packaging such as plastic, tetra paks and aluminum. The jungle shop has minimized the use of plastic by providing only refill, glass and paper containers. Only biodegradable soaps and cleaning agents are used in the Village and are sold in the shop. Visitors are asked NOT to bring plastic waste and non-rechargeable batteries.  Please BRING rechargable batteries, re-usable bags and a refillable water bottle with you.
Composting Toilets are used in the main public area, and additional composting toilets are being constructed to serve accommodation areas to drastically reduce water usage.
Soil Regeneration: The Soil Center is in full production transforming organic waste into nutrients for the soil using biochar and vermiculture techniques.  Soil erosion is controlled through planting and swells.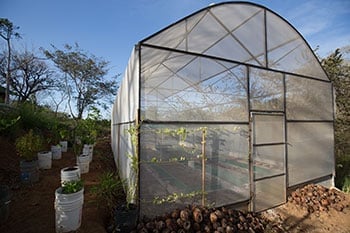 PachaMama Greenhouse: As well as a nursery, the greenhouse produces native trees, a variety of greens and superfoods.
Clean Energy: 100% of Costa Rican electricity is clean and renewable
Greywater Recycling and Water Retention Project:  A greywater system has been installed in the restaurant and in some private homes to be used for irrigation.  Water is also conserved through the use of swells and two retention lagoons. Rainwater is returned to the aquifer by using the natural features of the land to reduce erosion. As well, millions of liters of water are saved each year through the use of compost toilets.
Native Ecology: Botanists and herbalists from the local communities visit and educate PachaMama on planting and restoring native and endangered species of plants and trees. This creates a more hospitable environment for restoring populations of native wildlife, from birds to big cats, so the forest ecosystem can thrive.