The PachaMama Body Cleanse is a detox retreat designed to cleanse the body of toxins and parasites that build up in the digestive system over years of living in stressful, toxic environments and consuming poor, unhealthy food. Detoxifying the blood, cleaning the colon and flushing the liver allows the body to reset, improving one's overall health. This powerful detox also sets off a metaphysical reaction, clearing out emotional and mental blockages that have been weighing one down.
The Retreat is comprised of:
•    juice fasting
•    colonic hydrotherapy
•    yoga, dance and breathwork sessions
•    physiology and nutrition classes
•    personal health consultations
All juices used in the Body Cleanse are 100% organic and freshly pressed. Many of the organic fruits, veggies and superfoods on the Body Cleanse menu are grown organically in PachaMama. Yoga, breathwork and dance sessions are integrated into the daily schedule to support the physical and emotional process. Digestive system physiology and nutrition classes are offered in order to deepen one's understanding of the body and give a foundation of knowledge upon which healthier choices can be made in the future. Personal health consultations are carried out with every participant, taking a holistic, in-depth look at each one's health needs and habits.

PachaMama Detox Body Cleanse from PachaMama on Vimeo.
PachaMama is a unique place to experience a Body Cleanse detox process. It is an alternative, off-grid community located in a lush forest, dedicated to living a conscious life in harmony with nature. The meditative quality of the village and the support of the community which holds it allow the detox process to become much more than a physical experience but an initiation into a healthier and more fulfilling relationship with one's body, mind and heart. The food in the Village's Restaurant and Shops is organic and high-vibe, supporting a healthy transition in the days following completion of the detox process.
To read more about the unique experience of detoxing in PachaMama visit this blog post, written by co-leader of the Body Cleanse, Amari.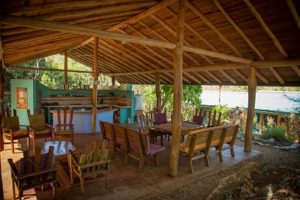 THE "PRANA CLINIC" FACILITY
The Body Cleanse is held in the well-designed, spacious Prana Clinic, fitted with:
– 10 private enema rooms, each containing an easy to use, self-operated irrigation system used for the hydro-colonics and a hot shower.
– A nearby spacious, comfortable lounge to enjoy the juices, hang out and read health-related books and magazines.
– A private session room for individual talks and sessions.
– A nearby hall ("Tara Garden") for group activities: yoga, dance, meditations, informative talks and sharing circles. Tara Garden is equipped with mattresses and pillows and is open for the group participants to rest and relax.
The Body cleanse programs in PachaMama combine these following elements:
JUICE FAST
Juice fasting is the foundation of all detox retreats held in Prana Clinic. A juice fast is in itself a powerful tool to cleanse the colon and digestive tract and to rejuvenate the body. Combining it with colonics makes it all the more potent. Participants will receive a daily menu of fiber free, highly nutritious raw juices. The juices are enriched with super-foods such as fresh noni, fresh aloe vera, goji berries, spirulina, chlorella, moringa, chaga, fresh turmeric, coconut water and a variety of greens and herbs. Juice fasting gives the digestive system a much needed rest in which it can recalibrate and refocus all its energy on cleansing, healing and restoring itself. Juice fasting is the best way for the body to be nourished with all the vitamins, minerals and enzymes it needs to rejuvenate itself.
The Prana Clinic uses 100% organic veggies & fruits for its juices and as much as possible what is locally grown in PachaMama.
COLON HYDROTHERAPY WITH ENEMAS
The Colon Hydrotherapy process is the core of the Body Cleanse program. A variety of colonic irrigations (fresh noni, garlic and coffee enriched enemas) flush out layers of toxins, mucous plaque, parasites and fungi populations that have built up over the years in the gastrointestinal tract and the digestive system.
Colon cleansing (or simply 'colonics') can help you overcome numerous symptoms such as fatigue, flatulence, constipation, indigestion, bloating and Irritable Bowel Syndrome while revitalizing your body and filling you with new and vibrant energy.
To increase the effectiveness of the colon cleanse, doses of fresh or fermented Noni juice grown locally and organically in PachaMama are added to the enemas. Noni juice is known for its miraculous detoxifying abilities, its ability to eliminate parasites and pathogenic bacteria and its capacity to increase the cell building functions of the body.
The self-operated enema rooms are fitted with 20 liter containers. Participants are invited to use the enemas twice a day.
LIVER CLEANSE
The liver cleanse, or liver flush, is a detoxification method used for cleansing the liver and gall bladder while removing toxic sludge and gallstones. The Prana Clinic is using the liver flush technique designed by Andreas Moritz. This all-natural process stimulates the gallbladder and liver bile duct to contract and expel the waste accumulated over time, leaving the body invigorated and the liver more capable of fulfilling its various tasks including continuously filtering toxins from the blood stream.
NATURAL DETOX
No pills are used during the Body Cleanse process. All nutrients and healing agents come from fresh, raw juices, superfoods, herbs and home-made fermented drinks.
NUTRITIONAL CONSULTATION
A comprehensive cleansing of the colon and digestive system changes the body's chemistry and unleashes its natural abilities to absorb nutrients stored in the food we eat. It also makes the body more sensitive to toxins. That's why the time following a cleanse is the best opportunity to change one's diet and get rid of food-related habits and addictions such as sugar, coffee, alcohol, white flour, processed junk food and even cigarettes.  The cleanse programs include a holistic nutritional consultation aimed at bringing increased awareness to the way one relates to food while introducing super-foods and helping adopt and sustain a balanced, high-vibe diet that will keep one healthy and vital.
Learn more about the PachaMama Body Cleanse programs:
5-day Body Cleanse Group
Individual cleanse Retreats
"You have to learn how to tune your antennas into more graceful frequencies, it is not that maintaining a perfect 'new age' life is what it's about but you have to learn how to manifest grace through your body/mind mechanism. Your body and mind have to prepare to become a tool, an instrument for the divine, for something higher than the human standard."
Excerpt from Satsang with Tyohar