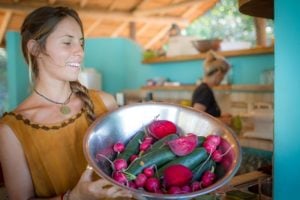 The Body Cleanse Group is a five-day purification process designed to support the body in detoxifying the buildup of harmful toxins. These toxins are primarily accumulated in the digestive tract, gallbladder and liver, and have a wide-range of adverse effects on the physical as well as the emotional body. Ridding the body of these physical layers of toxins offers a fresh beginning, a significant reset to the body's functions. This reset brings replenished energy, vitality, and invites a deep new appreciation and connection to the body.
The approach at PachaMama's Prana Clinic is a holistic one – bringing into awareness and healing not only the physical aspects but also the emotional and energetic ones.
The program includes four days of colon cleansing (juice fasting and enemas, see under for more details) and one night and day of liver flushing (cleansing the liver and gallbladder of stones).
The body cleanse group program consists of a full schedule: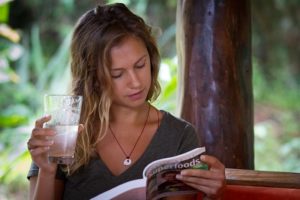 • Juice fasting with freshly pressed, 100% organic vegetable juices enriched with raw super foods, including PachaMama's self-grown medicinal plants. The juice menu is served throughout the day and includes a high vitamin C juice, a green juice, a fresh noni drink and other highly nutritious, detoxifying juices.
• Daily enema sessions (colon irrigation) held in 10 private, comfortable enema rooms overlooking a beautiful forest hillside.
• Daily yoga classes – designed and held specifically for the group.
• Digestive system physiology & anatomy classes.
• Diet and nutrition classes with important information and  tools to raise awareness and assure participants go on to make healthier lifestyle choices.
• Individual health consultation sessions (symptoms & nutrition).
• A group breath work session.
• Body movement & dance classes.
• Daily meditation.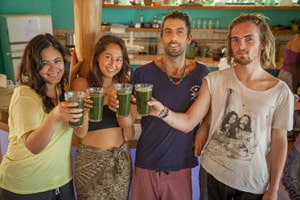 Important notes:

It is highly recommended to arrive in PachaMama at least two days before the Cleanse Group starts to get oriented in the village, allow the body to get used to a different climate and a new environment, and lighten the diet with the vegetarian food served in the restaurant.  It is also recommended to stay for at least a couple of days after the group to support the body's reacclimating with the specific post-cleanse meals served in the restaurant.
The group starts with an opening circle at 4pm on the first day. On the day the group starts, participants are asked to eat light and skip dinner. The last day is a half-day – ending usually by 1pm, in time for lunch.
Further detailed instructions on how to prepare for the cleanse will be sent upon registration.
* It is advisable to bring good probiotic capsules to further support the body's natural flora and digestion after the cleanse.
Learn more about the PachaMama Body Cleanse & Detox retreat programs.
(The groups on Aug 2 – 5 and Nov 29 – Dec 4 are part of the Transformation Cycle but open for everyone.)
<p style="text-align: center;">
</p>