PachaMama is a natural sanctuary for the soul.  It's a place to dive into a transformative spiritual journey. An opportunity to rejuvenate the body, connect with nature and celebrate life. Located on the Pacific coast of Costa Rica in a forested valley, PachaMama was founded in 1999 by Tyohar and fellow travelers who responded to the invitation to manifest together an intentional community that embraces an alternative lifestyle. Ever since its foundation, the village has become an international gathering place, creating a colorful and unique energy field of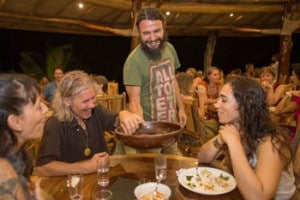 diverse personal and cultural backgrounds.
It is organized as both a spiritual commune for the residents who have made it their home and as a nonprofit center of transformation that offers retreats and workshops to hundreds of visitors every year. All income is reinvested to support the operation, maintenance and growth of the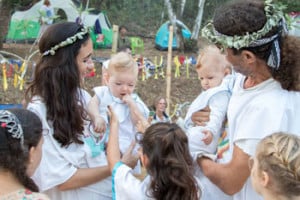 village. The community also has a pre-school, Kindergarten and Primary Years Program to service the growing number of children being born here as well as the families that have joined us.
As an eco village, PachaMama continuously creates projects to increase biodiversity, sustainability and minimize the carbon footprint.  The principles of permaculture, waste reduction, soil regeneration, water reduction and recycling to name a few are explored and applied in the village.  PachaMama is totally committed to providing nourishing healthy food that is kind not only to our bodies but to the Earth as well.  Superfoods, fruits and leafy greens grown in the village are 100% organic and the community works in partnership with and supports local farmers using responsible growing practices.
PachaMama is unique among communities in Costa Rica. Here each one can live authentically, close to nature, supported by cycles of celebration, silence and meditation. What unites the village is the shared journey in awareness. It is a meeting beyond personalities and ideas. Living and being in PachaMama is to look into the mirror of one's true self, through togetherness and aloneness. Living an alternative holistic lifestyle, meditation, yoga and sacred native healing ceremonies are key to the soul of PachaMama.  This is manifested living in reverence and harmony with nature and co existing with the elements and the spirit of the forest.
Click here for information on various areas of the PachaMama community: